We have a full range of beef cuts available.
We have established a herd of Belted Galloway cattle, which is a heritage breed renowned for its high-quality beef and distinctive white "belt". Belted Galloways were first imported to the United States from Scotland in the 1930s and have a small but robust breeder community across the US, with particular popularity in New England.
Ours is a breeding herd, meaning our animals are bred and reared here on the farm. We keep a registered Belted Galloway herd sire.
A breeding herd also means our beef production volume is low – of our current herd of about 30 head, only five or six might be available for beef in a given year – but this allows us to manage the whole life cycle with a focus on quality from herd planning, breeding and rearing, right through to the sale and delivery of our fine beef.
Although we are not certified organic, our cattle eat only grass – we maintain a careful rotational grazing program throughout the summer and autumn and feed hay during the winter and into the spring.
The cattle live in the field year-round although they have barn space available in the colder weather.
The hay we feed is partially cut by us from our own fields and partially brought in from other local farmers who specialize in hay production.
We provide supplements of kelp and trace minerals.

We have never had to use antibiotics in our herd, largely because of the low-stress, free-range life they lead, and we will only do so for short-term treatments when necessary for the well-being of the specific animal.
Fundamentally, our goal is to provide the highest quality beef possible. We have found that the highest standards of animal welfare fall in line with our drive for the highest quality beef – happy animals, well fed animals, well cared-for animals, unsurprisingly produce the best meat.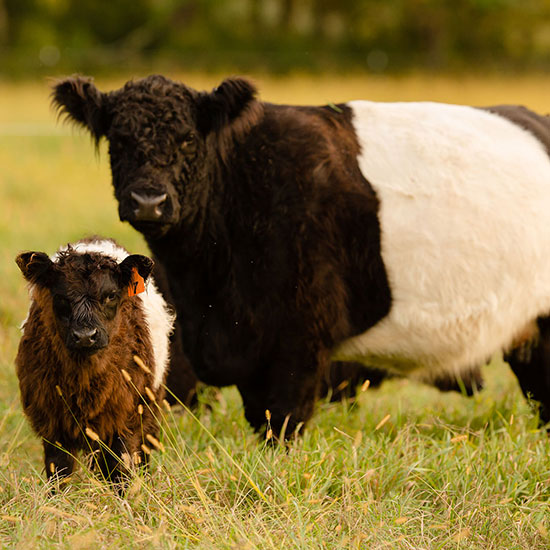 We offer a10% discount on orders of 10 lbs or more.